Lower Quarter Course – Lafayette, CA (East Bay of the San Francisco Bay Area)
Sep 18, 2021
@
8:00 am
–
Sep 19, 2021
@
3:30 pm
PST
Spinal and Peripheral Manual Therapy Treatment Techniques For Lower Quarter
This two-day course will present the Mulligan approach to manual therapy for the Lumbar Spine and Sacroiliac joint as well as for the lower extremity.
PTs and PTAs will receive 14 CCUs from Procert: State Board of Physical Therapy (FSBPT) for those clinicians that hold license in: Alaska, Arkansas, Arizona, California, Colorado, Delaware, District of Columbia, Georgia, Hawaii, Idaho, Illinois, Indiana, Kansas, Kentucky, Michigan, Minnesota, Mississippi, Missouri, Montana, Nebraska, North Carolina, North Dakota, Oregon, Pennsylvania, Puerto Rico, Rhode Island, South Carolina, South Dakota, Tennessee, Utah, Vermont, Virginia, Wisconsin and Wyoming
Continuing Education (CE) credits Certificate of attendance for 13 hours
ATCs will receive 13 CEUs from the NATA Board of Certification Approval #P3566
Description
Spinal and Peripheral Manual Therapy Treatment Techniques For Lower Quarter
This two-day course will present the Mulligan approach to manual therapy for the lumbar spine and sacroiliac joint as well as for the lower extremity. It will include lecture, patient demonstrations, and lab time to give the participants a thorough and in depth coverage of the Mobilization With Movement™ approach for the lower quarter. This unique approach to manual therapy was discovered and developed by Brian Mulligan F.N.Z.S.P. (Hon), Dip. M.T. from Wellington, New Zealand. This simple yet effective manual approach addresses musculoskeletal disorders with pain free manual joint "repositioning" techniques for restoration of function and abolition of pain.
Objectives
Learning Objectives
By the end of the course the participant will be able to accurately:
List 3 key components of Mobilization With Movement™ for the treatment of the lower quarter.
Demonstrate 3 MWM techniques for ankle ROM impairment.
Demonstrate 2 MWM techniques for knee ROM impairment.
Demonstrate 3 MWM techniques for hip ROM impairment.
List 2 indications for ankle and knee taping procedures to reinforce MWM techniques.
Demonstrate 3 key variables that may need to be modified for pain-free effective MWM of the lower extremity, SI jt and lumbar spine.
Demonstrate 3 manual techniques for the alleviation of pain with straight leg raise.
Demonstrate 2 manual techniques for the alleviation of SI jt pain.
Demonstrate central and unilateral manual SNAG techniques for pain-free improvement of lumbar ROM.
Cite at least 2 RCT studies that support ankle sprain MWM and taping.
Cite at least 1 RCT study that supports the MWM approach to dorsiflexion loss at the ankle.
Outline
LOWER QUARTER
8:00-4:30 SATURDAY
7:30-3:30 SUNDAY
DAY 1:
8:00-9:00 Sign in and Registration. Pre-test. Introduction, theory, guidelines for practical application of Mobilization With Movement (MWM's): CROCKS and PILL
9:00-10:00 Toes/Feet demo & lab: 1st MCP, metatarsals, tarsals, plantar fasciitis & taping techniques
10:00-10:15 Morning Break
10:15-10:30 Ankle Lecture: literature evidence for evaluation and treatment of ankle sprain and dorsiflexion pain and/or mobility loss.
10:30-12:00 Ankle demonstration & lab practice: talocrural and proximal/distal tibia/fibular joint & taping.
12:00-1:00 Lunch
1:00-2:30 Knee demonstration & lab: Literature evidence for evaluation and treatment. MWM's & taping.
2:30-2:45 Afternoon Break
2:45-4:30 Literature evidence for evaluation and treatment of Hip. Demonstration and lab practice: Mobilization with Movement and self management strategies.
Day 2:
7:30-8:30 Review of Day 1 topics and treatments. CMP exam requirements. Hip demonstration and lab practice continued: weight bearing techniques.
8:30-9:30 Lumbar demo & lab practice: Sustained Natural Apophyseal Glides (SNAG's) in sitting, standing, quadruped, prone.
9:30-9:45 Morning Break
9:45-12:00 Lumbar demo & lab practice continued. Self SNAG's, SLR techniques, HEP
12:00-1:00 Lunch
1:00-3:00 Lumbopelvic demo & lab practice: innominate & sacral techniques, weight bearing / non weight bearing, taping & HEP.
3:00-3:30 Practical review session. Post course test.
Requirements
Wear loose, comfortable lab clothes. Bring mobilization belts, mobilization pads, if available.
Suggested Reading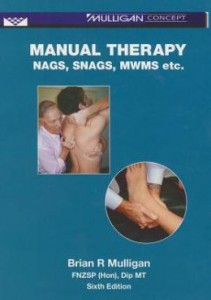 Manual Therapy : Nags, Snags, Mwms, Etc. – (6th Ed), Orthopedic Physical Therapy Products, 2010
This new 6th edition text contains new & revised information including Mobilisations with Movement (MWMs) for the shoulder girdle. When applied correctly, they can significantly reduce joint pain and increase movement. They're also highly effective treatments for patients with pain or stiffness of Cx 5/6 and Cx 6/7 origin.
This book is a must for physical therapists working in the musculoskeletal field. Written by one of the world's foremost experts of Manual Therapy, Brian Mulligan. Illustrated. Softcover, 132 pages.
Faculty

Mark Thomson – DPT, FAAOMPT, OCS, CMP, MCTA
Dr. Thomson earned his BS in Physiological Science from UCLA in 1992. He graduated from UCSF/SFSU with an MPT degree in 1995. Mark graduated from the Kaiser Permanente Manual Therapy Fellowship in Los Angeles, CA in 2000. In 2005, he earned his tDPT from Temple University. Mark is a fellow of the American Academy of Orthopedic Manual Physical Therapists, is a Board Certified Orthopedic Clinical Specialist, and APTA Orthopedic Section member. Mark's clinical practice is currently at Kaiser Permanente in San Diego, where he works as a Clinical Specialist and treats outpatient orthopedic patients full time. Since 2010, he has also worked as an adjunct faculty member at the University of Saint Augustine in San Diego within the Physical Therapy Doctoral Program, teaching courses in Spinal Manipulation, Extremity Manipulation, and Orthopedics. Before becoming a Mulligan teacher in 2014, Mark was a Mulligan Concept ™ Teacher's Association teaching assistant and Certified Mulligan Practitioner for 10 years and has been involved with teaching short and long-term Maitland manual therapy courses since 1999 with excellent course reviews. Dr. Thomson is a clinical faculty member in the Kaiser Southern California Orthopedic Residency program, and thoroughly enjoys mentoring several residents every year. He practices an integrated style of manual therapy, focusing on passive and active mobilization techniques and exercise, with a commitment to continual analytical assessment. Mark is currently the North American Mulligan Concept ™ Regional Manager.
Instructor
Mark Thomson
Who's coming?
One person is attending Lower Quarter Course – Lafayette, CA (East Bay of the San Francisco Bay Area)