Lower Quarter Course – Miami, FL
Nov 9, 2019
@
8:00 am
–
Nov 10, 2019
@
3:30 pm
Spinal and Peripheral Manual Therapy Treatment Techniques For Lower Quarter
This two-day course will present the Mulligan approach to manual therapy for the Lumbar spine as well as for the Lower extremity.
PRO CERT 11 CCUs: State Board of Physical Therapy (FSBPT) for those clinicians that hold license in: Alaska, Arkansas, Arizona, California, Colorado, Delaware, District of Columbia, Georgia, Hawaii, Idaho, Illinois, Indiana, Kansas, Kentucky, Michigan, Mississippi, Missouri, Montana, Nebraska, North Carolina, North Dakota, Oregon, Puerto Rico, South Carolina, Tennessee, Utah, Vermont, Virginia, Wisconsin and Wyoming
Approved for 13 hours of CE by the NY State Educational Board (NYSED) for PTs and PTAs
Certificate of attendance is provided for 13 hours of Continuing Education (CE) credits
Spinal and Peripheral Manual Therapy Treatment Techniques For Lower Quarter
This two-day course will present the Mulligan approach to manual therapy for the lumbar spine and sacroiliac joint as well as for the lower extremity. It will include lecture, patient demonstrations, and lab time to give the participants a thorough and in depth coverage of the Mobilization With Movement approach for the lower quarter. This unique approach to manual therapy was discovered and developed by Brian Mulligan F.N.Z.S.P. (Hon), Dip. M.T. from Wellington, New Zealand. This simple yet effective manual approach addresses musculoskeletal disorders with pain free manual joint "repositioning" techniques for restoration of function and abolition of pain.
Objectives
Learning Objectives
By the end of the course the participant will be able to accurately:
List 3 key components of Mobilization With Movement for the treatment of lower quarter.
Demonstrate 3 ankle MWM techniques for ankle ROM impairment.
Demonstrate 2 knee MWM techniques for ROM impairment.
Demonstrate 3 hip MWM techniques for ROM impairment.
List 2 indications for ankle and knee taping procedures to reinforce MWM techniques.
Demonstrate 3 key variables that may need to be modified for pain-free effective MWM of the lower extremity, SI jt and lumbar spine.
Demonstrate 3 manual techniques for the alleviation straight leg raise pain.
Demonstrate 2 manual techniques for the alleviation of SI jt pain.
Demonstrate central and unilateral manual SNAG techniques for the pain-free improvement of lumbar ROM.
Cite at least 2 RCT studies that support ankle sprain MWM and taping.
Cite at least 1 RCT studies that support the MWM approach to dorsiflexion loss of the ankle.
Outline
Toes/Feet: IP, MCP, metatarsals, tarsals, plantar fasciitis, and taping techniques.
Ankle: talocrural, distal tib/fib joint, DF, PF, ankle sprains, and taping techniques.
Knee: Belt MWM's, IR MWM, Squeeze technique for meniscus, proximal tib/fib joint, and taping.
Lumbar: SNAGs, self SNAGs, SLR techniques, SNAGS with SLR, and HEP.
SI joint: ilial rotations, upslip, plinth and weight bearing techniques, taping techniques.
Thoracic: SNAGs for rotation, flexion, SB, extension, belt traction, and HEP.
Hip: flexion, extension, rotation, non-weight bearing and weight bearing techniques.
Requirements
Wear loose, comfortable lab clothes. Bring mobilization belts, mobilization pads, if available.
Required Reading
The required texts for the course are:
The Mulligan Concept of Manual Therapy: Textbook of techniques by Hing, Hall, Rivett, Vicenzino and Mulligan, 2015. (Get 10% off by entering PROMOTIONAL CODE: BAL6E70486 at checkout !! )
AND: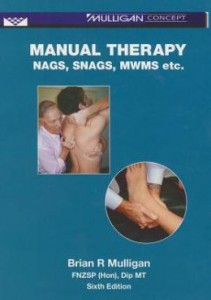 Manual Therapy 'NAGs', 'SNAGs', 'MWMs' etc. 6th edition, by Brian R. Mulligan, 2010.
Faculty
Richard Crowell – PT, MS, GDMT, MCTA
Rick Crowell is a 1993 graduate of Curtin University's postgraduate program in manipulative therapy, Perth, Australia. He received his post-professional Master's Degree in 1986 from Georgia State University in orthopedic physical therapy. Rick has extensive educational and clinical training in manual therapy. He is a fellow in the American Academy of Orthopedic Manual Physical Therapy. He is currently practicing, teaching, and conducting research in Mobilization with Movement. Rick is a adjunct professor at the College of St. Scholastica in addition to his clinical practice. He has worked with Brian Mulligan since 1994, is an accredited teacher in the Mulligan Concept and has conducted courses in both the United States and Brazil.
Visit Northeast Seminars to Register
Instructor
Richard Crowell