Upper Quarter Course – Denver, CO CANCELLED – Rescheduled to July 18-19, 2020
Spinal and Peripheral Manual Therapy Treatment Techniques For Upper Quarter
This two-day course will present the Mulligan approach to manual therapy for the Cervical and Thoracic spine as well as for the upper extremity.
PRO CERT 12 CCUs: Federation of State Boards of Physical Therapy (FSBPT) accepted in: Alaska, Arkansas, Arizona, California, Colorado, Delaware, District of Columbia, Georgia, Hawaii, Idaho, Illinois, Indiana, Kansas, Kentucky, Michigan, Mississippi, Missouri, Montana, Nebraska, North Carolina, North Dakota, Oregon, Puerto Rico, Rhode Island, South Carolina, South Dakota, Tennessee, Utah, Vermont, Virginia, Wisconsin, Wyoming
NATA Board of Certification CEU Provider P3566
Certificate of attendance for 12 hrs of instruction
NATA Board of Certification Approval #P3566
Description
Spinal and Peripheral Manual Therapy Treatment Techniques For Upper Quarter
This two-day course will present the Mulligan approach to manual therapy for the Cervical and Thoracic spine as well as for the upper extremity. It will include lecture, patient demonstrations, and lab time to give the participants a thorough and in depth coverage of the Mobilization With Movement™ approach for the upper quarter. This unique approach to manual therapy was discovered and developed by Brian Mulligan F.N.Z.S.P. (Hon), Dip. M.T. from Wellington, New Zealand. This simple yet effective manual approach addresses musculoskeletal disorders with pain free manual joint "repositioning" techniques for restoration of function and abolition of pain.
Objectives
Learning Objectives
Have an appreciation of the Mobilization With Movement™ approach as well as potential neurophysiological mechanisms that are involved in the Concept
Provide a thorough and in depth instruction and practice of the MWM techniques for the upper quarter.
Develop the knowledge and manual skills to successfully apply and integrate the MWM techniques.
Integrate taping techniques with Mobilization With Movement™
Understand the guidelines for safe and effective technique selection.
Improve clinical outcomes.
Outline
Hand: IP, MCP, Metacarpals, Carpals, and taping techniques.
Wrist: MWM's for flexion, extension, supination, pronation, and taping.
Elbow: flexion, extension, proximal radioulnar joint, tennis elbow treatments, HEP.
Shoulder: manual and belt MWM's for elevation, IR, ER, functional activities, HEP.
Acromioclavicular joint: MWM's, and taping.
Cervical: NAGs, Reverse NAGs, SNAGs for flexion, extension, rotation, SB, HEP techniques, traction techniques, Positional SNAGs, Spinal Mobilizations with Arm Movement, Headache/Upper Cervical assessment, and treatment techniques.
Ribs: MWM's for ribs 1-12.
Thoracic: SNAGs for rotation, flexion, SB, and extension.
Requirements
Wear loose, comfortable lab clothes. Bring mobilization belts, mobilization pads, if available.
Suggested Reading
The recommended texts for the course are:
The Mulligan Concept ™ of Manual Therapy: Textbook of techniques by Hing, Hall, Rivett, Vicenzino and Mulligan, 2015. (Get 10% off by entering PROMOTIONAL CODE: BAL6E70486 at checkout !! )
AND: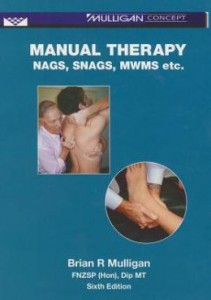 Manual Therapy 'NAGs', 'SNAGs', 'MWMs' etc. 6th edition, by Brian R. Mulligan, 2010.
Faculty
Eric M. Dinkins – PT, MSPT, OCS, Cert. MT, MCTA, CMP, CCI
Eric is a graduate from the University of Colorado Health Sciences Center and has been practicing since 2001. He has earned post-graduate certifications in Manipulative Therapy and is a Certified Mulligan Practitioner with the Mulligan Concept ™ of manual therapy. In 2014 he earned his Board Certification as an Orthopedic Clinical Specialist through the American Physical Therapy Association. Eric is also proud to be part of the teaching faculty for Select Medical Corporation, Northeast seminars, and Motion Guidance LLC.
Eric has an extensive sports medicine background, has worked closely with physicians from the Steadman-Hawkins Clinic in Denver, and has treated athletes from youth, to Olympic, and professional levels. He is a published author and was a key-note speaker at the International Mulligan Conference in 2009. Other clinical interests include treatments for Restless Legs Syndrome and utilizing the Motion Guidance system to improve visual feedback in rehabilitation. When not practicing, Eric enjoys spending time with his family, mountain biking, and playing guitar.
Reviews
Participant Reviews & Testimonials
"I treat mostly upper extremity disorders and I really liked how I am able to incorporate the Mobilization with Movement Concept with my patients. Effective, immediate result, safe techniques. The course was great thank you!"
-Susan G. OTR
"I really enjoyed this course. Changed the way I view manual therapy and its applications for my clinic practice. Eric was engaging and spent plenty of time honing skills during the lab breakout sessions."

~Eric S. PT, DPT, OCS
Instructor
Eric Dinkins
Who's coming?
22 people are attending Upper Quarter Course – Denver, CO CANCELLED – Rescheduled to July 18-19, 2020